The Uniting Church in Nambour came into being on 22 June 1977 formed from the Nambour Methodist Memorial Church and St. Andrew's Presbyterian Church.
Presbyterian events in black,
Methodist / Uniting events in Blue
1880's

Mr Beasly came once a year with his Bible and Book Wagon from Brisbane and held Cottage Meetings at W.Perren's.
James Whalley conducted the first Methodist Service in the home of William and Emma Perren at Petrie Creek.

1891
Mr. T. Howard offered a block of land on which to build a Protestant Church, A meeting in March, 1891 accepted the
offer to build a church in connection with Wesleyan Methodist denomination. Messrs. Whalley and Stark donated the timber
and William and John Perren supplied and cut the shingles.

1892
Church built and opened. Mr. Butler was the first Home Missionary. Sunday School commenced in September, 1892
with William Perren as Superintendent People walked or rode long distances to worship from places as far away as Dunethin
Rock and Woombye. The Church cost was £22. The first wedding held in the Church was James and Mary Perren on the
3rd July, 1895.
Early Trustees: Messrs.Jones, J.N.Whalley, Stark, William and
John Perren, Mitchell, William Whalley, Roberts and Lanham.
1893
First Presbyterian Service held in Nambour District – in homes and in the open air.
1894

1900
School of Arts next door was purchased by theTrustees for £I30. Half of the original Church formed the Vestry and the rest of
the timber was used on the Parsonage. Rev. C.C.Truman was the first Minister.

1902
ladies Church Help Society formed by Rev* T. Brissington's wife. Methodist Christian Endeavour Society established.
1906
First Home Mission Agent, A.McCauley was appointed.
1910
First Presbyterian Church built in Nambour – Where the ESSO service station was, now Caltex.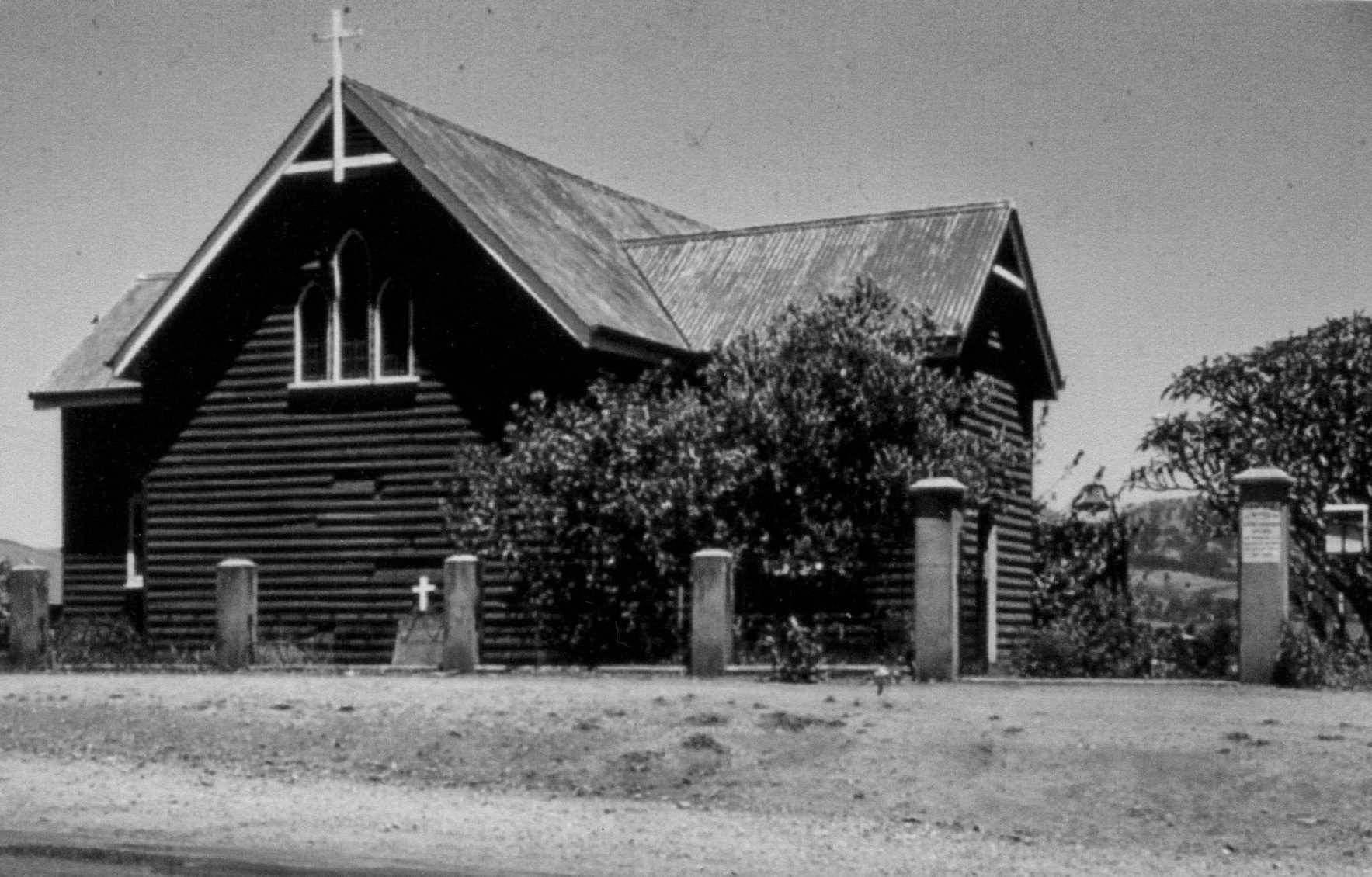 1921
Kindergarten Hall opened at a cost of £298.

1926
The Methodist Girls Comradeship commenced with Mrs. Axe as Director.
She held this position for 17 years.

1927
Young Men's Club was formed by Rev. J. H. Heaton.

1928
Electric light installed in Nambour. "The Church participated in the advantages of this modern illumination." Light donated by William Whalley.
Presbyterian events in black,
Methodist / Uniting events in Blue
1928
Manse was built during the ministry of J.McVheil
1936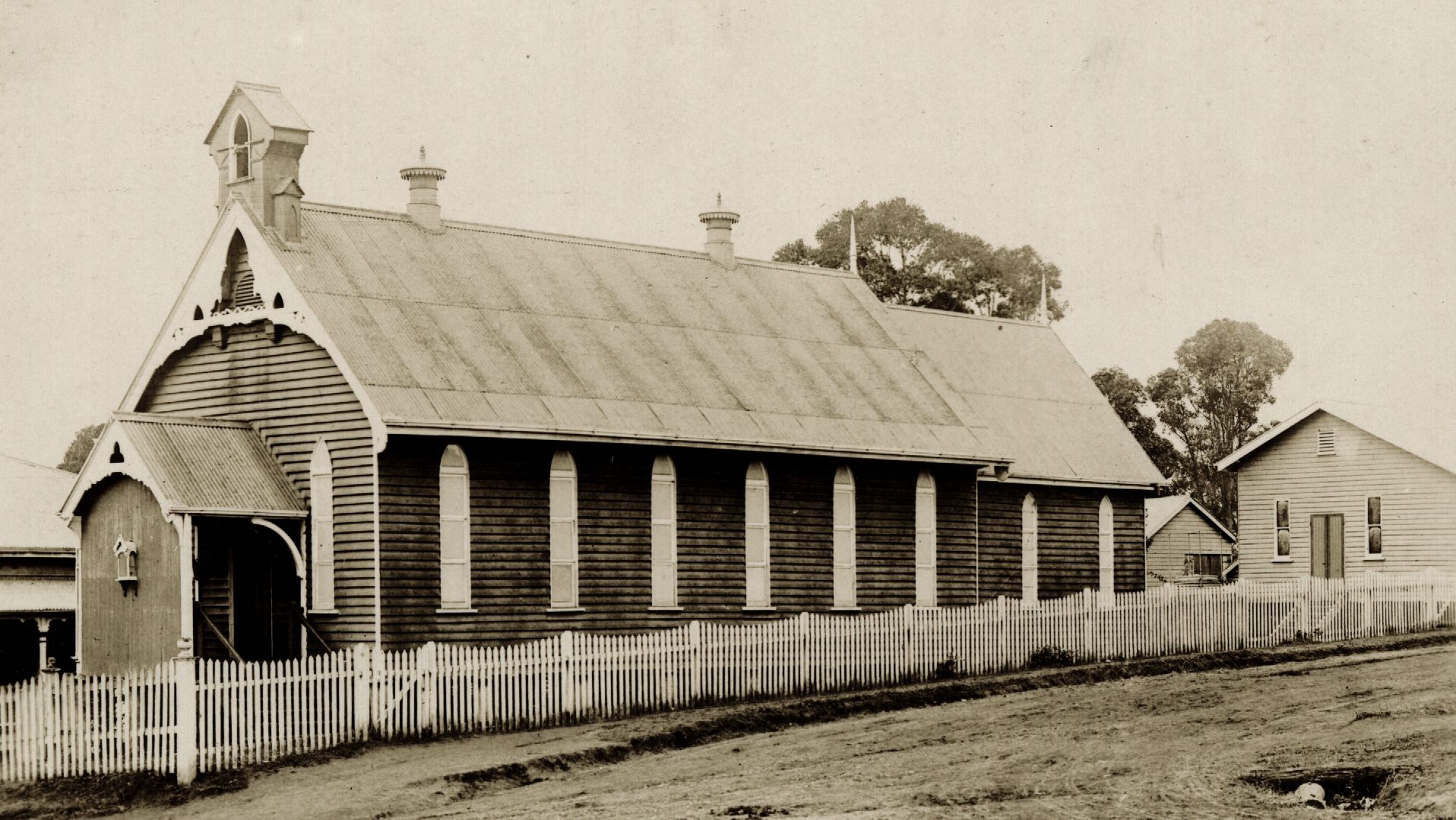 Opening of "Gateway of Memories" the dedication of the Roberts Memorial Gate.
Order of Knights commenced by Rev. E.G.Hall with Merv Hoskings as Commander.
1946
The first Ordained Minister was called to Nambour Congregation

1947
Building committee formed: F. Heaton(Convenor), V. Day, H. Walters, R. Whalley, E. Lanham, J.Grimes.

1948
Rays commenced with Mrs. Thelma Cannon as Chief Ray
1949
Parsonage built The' timber was donated by G. Perren and cut
by H, Walters, A. Unwin, F. Heaton, C Logan, F. Perren,
G. Perren, E. Biggs and A. Grimes.
Memorial Church Stone Laying was held in November with
Rev* H.W. Prouse, President of the Queensland Methodist
Conference, officiating
1950
A decision was made to sell the Church and Manse site and purchase the present site from Mr.W.R.Rigby
for the sum of £3,700 -.
The old Church building was moved to this site and later served as the hall.
1950
Past Methodist Girls Comradeship was formed Name later
changed to Junior Guild in 1956

1951
Rev.0.Brandon accepted a call as Minister and before
long plans for a new Church were drawn up.
1951
Removal of Old Church Building. Purchased by the Seventh
Day Adventists and shifted to Howard Street
Presbyterian events in black,
Methodist / Uniting events in Blue

1953
Architect was authorised to call tenders for the ground plan of the foundations.
In the following years funds were raised for this construction.
1953
Church Shops opened
1954
Opening of The Nambour Methodist Memorial Church on the 15th May by Rev. G.E. Holland, President of Conference.
Cost of Church was £20,000.

1956
The Kindergarten Hall was sold to Maroochy District Band and
removed to Daniel Street

1958
Opening of New Methodist Sunday School and Youth Centre
in October by Rev. S.G. Munro, President of Conference Completion of the Hall brought the value of the buildings on
the Church's property to more than £60,000.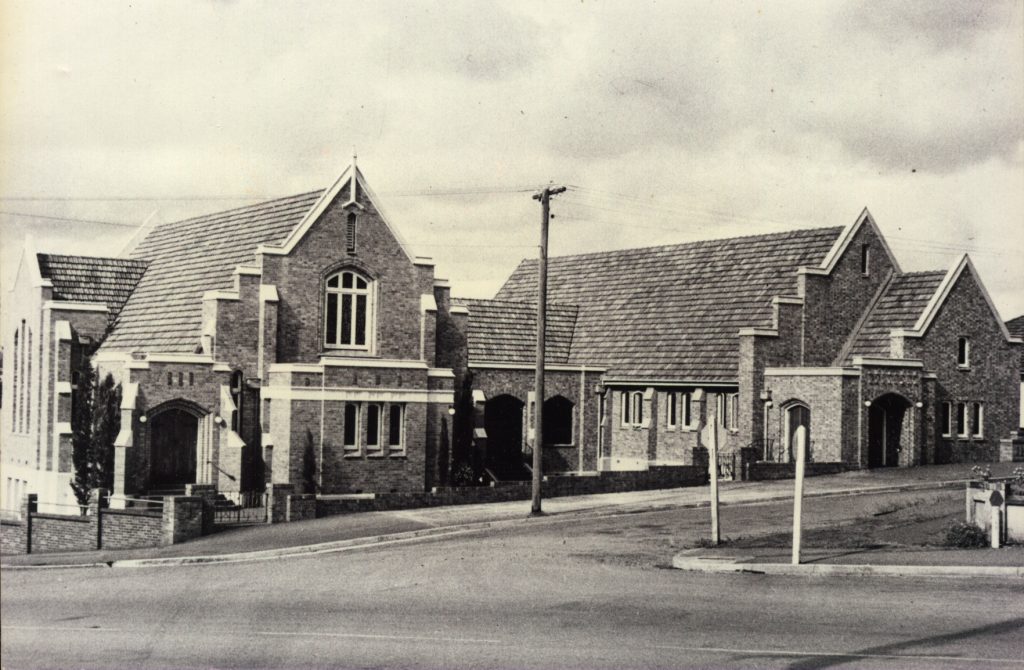 1958
The new St.Andrews Church opened by Rev.Ballinger the Moderator of the Presbyterian Assembly. Officially opened and dedicated on 28 June 1958, a new building, St. Andrew's Presbyterian Memorial Church, was located on Coronation Ave.
Presbyterian events in black,
Methodist / Uniting events in Blue

1965
Launching of the Blue Nursing Service on the 4 th May. The
Rev. R.T. Sargeant was Director and Sister Hazel Gibson Sister in Charge.
Businessmen's Luncheon commenced in July, organised by the Junior Guild Proceeds for Blue Nursing.
1968
Purchase of adjoining property in December from the Deans.
1960's and 1970's
God's work in this Congregation was maintained in a variety of ways.
Thanks be to God for all the faithful people who worshipped and worked here.

NAMBOUR METHODIST JUNIOR GUILD
Photo taken in January 1970 in the Church. Members as follows:

Back Row:
J.Crick , E.Wheeler , E.Slater , V .Simms , J.Wiliersdorf , E.Thomas, J.Douglas, H.Guppy , G.Taylor , J.Savill ,N.Elwood , B.Hagerman, J.Kilby, V.Tomlinson, D.Giess.

Centre Row:
M.Wright , P.Francis, A.BLandford , C.Owens , O.Chance , B.Garrett , M.Cathcart , Mrs. E.Elvery (wife of minister) H.Davies, L.Jensen, B.Ellis, J.Henderson , D.Tessman , N.Townson , M.Perkins, D.Griffin.

Front Row:
J.Hocking , J.Hall, R.Sheppard , M.Goatham , D.Heaton , D.Biggs, N.Bramich, M.Heitman , A.Elms , L.Cathcart , M.Hawthorne , M.Garrad, D.Ford, U.Sexton , L.Webb,
Presbyterian events in black,
Methodist / Uniting events in Blue

1976
Methodist Girls Comrades held a Dinner and Church Service in February to celebrate 50 years.

1977
The Uniting Church in Australia was established on 22 June 1977.

1978
Junior Guild commenced "Where Old Friends Meet"
1984
ST Andrews and the Maud Street Congregations made the decision to become
'One Congregation meeting in two places'.
The Elders held combined meetings, Sunday School and Youth Groups were combined
1986
Crossroads commenced in March with Alan Donaldson as Director
1987
Buildings destroyed by fire on the 24th April 1987.
The Fire which damaged the Maud Street property brought the two Uniting Church Congregations in Nambour together for Worship.
Congregations combined in worship at St Andrews Church.

1989
Maud Street Church property sold.
1989
Decision was made to develop the St Andrews site as the Nambour Uniting Church – now the official name.
1990
Construction work on the new Uniting Church Complex on this site was begun.
Stained Glass windows from Maud Street Church were moved to the new complex
Presbyterian Ministers who have served in this Congregation 1946 – 1990
Rev. William Cowan
Rev. Win McPheat
Rev. James Hartshorn
Rev. Ron Wallace
Rev. George Wallace
Rev. George Andrews
Rev. Don Crannell
Rev. Milton Drake
Nambour Methodist Church Home Missionaries until 1902
Mr. Butler
Mr., Fisher-Webster
B. Frederick
A. Grainger-Smith
J .Fr Goldie
A.P. Corrie
J.E. Blakey
C.C. Truman
Ministers 1902-1983
C.C. Truman
T Brassington
W, Shenton
W.S. Bath
C.T. Palethorpe
W.L. Slater
Walter S. Sanders
F.A. Malcolm
John E. Jacob
James H. Heaton
C.C. Truman
A.E Lapthrne
EG. Hall
EJ. Taylor
F. Chowns
S .G. Munro
Ron Howe
George D Smith
R.T. Sergeant
Ron W. EIvery
Ivan Hiscock
M E Spengler
For their vision, guidance and openness to the leading of the Holy Spirit, we give thanks